Saint Louis: Feast Day August 25th
Meetings: First Monday of each month. 6:45 - 9PM at Koenig Park Hall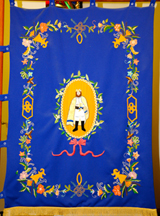 The purposes of the Society are:  1. Promotion of a vigorous Catholic life according to the mind of the Holy Church  2. Mutual Aid, especially in sickness  3. Payment of a death benefit to the heirs of members at the time of their death, and  4. Promotion of social life among the members.
The St. Louis Roman Catholic Benevolent Association was founded on February 12, 1875, under the direction of Father Peter Richard.
The St. Louis Men's Society, as it has come to be known, has been the nucleus of the active participation of men in the parish during the past 136 years.
The membership currently consists of approximately 280 men of all ages and backgrounds. Officers of the Society include president, vice-president, secretary, treasurer and dues collector. Positions of Society trustees (4) , mutual aid director and sergeant at arms are also installed. Through leadership and work by its generous members, the Society is highly visible in many parish ministry activities involving spiritual, physical, financial and charitable support.
If you are interested in meeting and enjoying other parish men in a social and supporting atmosphere, come join us at our next meeting. No prior notice or obligation to join is expected or necessary. ALL MEN ARE WELCOME.
MEMBERSHIP ADMISSION
• Practicing male Catholics of St. Louis Parish who are fulfilling their religious duties and lead a good life.
• Be at least16 years of age and in good mental and physical condition.
• Are not members of any lodge or society forbidden by the Church.
• Annual dues are $20. on admission and each January.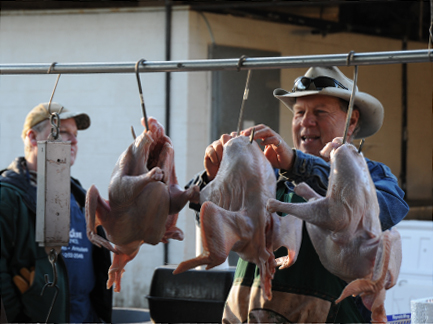 ACTIVITIES:
• Meetings each month on the first Monday at 6:45 PM at Koenig Park Hall. Dinner is prepared and served without charge and drinks are served for a small donation. Purpose is for social interaction and report on Society activities.
• Society members support sick and deceased member's family during times of need.
• Society supports the St. Louis School by funding member families' admission to the School's Pancake Breakfast each February. The Society also donates funds annually to the School for needed capital projects and student scholarships.
• Society sponsors a Wild Game Dinner each March to raise funds for college scholarships for our St. Louis Parish high school seniors and to fund other charitable and Society activities in the Parish.
• Deceased members are remembered at an evening Mass each November followed by dinner for all Society members and spouses.
• Society provides cooking/barbecue assistance to Moye Retreat Center for Heritage Day each October and an appreciation luncheon for St. Louis Religious Education teachers in early Spring.
• Members provide help to maintain the grounds and buildings at Koenig Park for activities including St. Louis Day.
For more information, contact the Rectory 830-931-2826