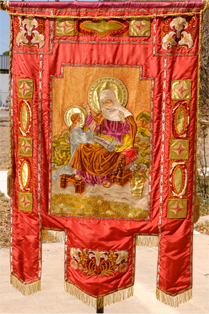 Saint Ann - Feast Day July 26th
Meetings - First Thursday each month, 7 p.m. in Braden Keller Center.
We, the members of St. Ann's Altar Society of St. Louis Parish,
Castroville, Texas, believe that as followers of Jesus and members of
His Church, we are called to contribute to the well-being of the Parish,
and to participate in the community worship of the church.
The earliest reference to a "Women's Society" was made in sermon notes by Rev. Eberhard Gahr, pastor of St. Louis Parish in 1867. Minutes of the first seventy-five years of the organization have been lost; thus the founding date is attributed to the one found on the St. Ann's banner as August 5, 1879.
Today, the Society is dedicated to the care of the altar and sanctuary; however our purpose has gone far beyond to that of mutual aid in church activities, service to one another and the promotion of a social life among members.
ST. ANN'S SCHOLARSHIP APPLICATION is online here. Deadline is May 4, 2018!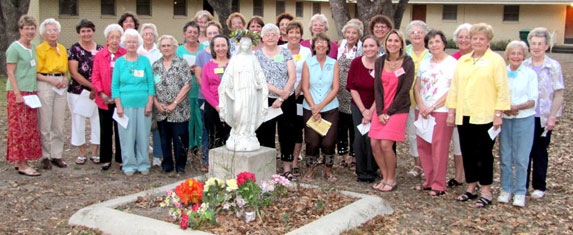 ACTIVITIES INCLUDE:
• Provides hosts for Masses and Homebound Members.
• Provides specific altar linens and altar server robes.
• Symbolic baptismal bibs are made by a St. Ann's Member.
• Visits the sick and homebound and sends get-well cards to members.
• Conducts a prayer service for a deceased member and has a Mass said for her.
• Offers a monthly Mass for the intentions of all St. Ann Members, living and deceased.
• The monthly "hostess" committee provide a weekly light cleaning of the church.
• Supports the St. Vincent de Paul Society by bringing non-perishable items and other necessities for needy families of the parish to each meeting.
• Mother-Daughter Banquet is open to all ladies of the parish, with special recognition given to ladies marking their 50 yr anniversary members. Members who have died in the past year are remembered. Graduating senior girls & their mothers are invited as special guests.
• Feast of St. Ann (July 26th) and Founding of St. Ann's Society (August 4, 1879) are celebrated by attending Mass as a group and 50+ yr members are recognized in Mass, with a light breakfast social afterwards.
• Crowns the Blessed Mother at the May Meeting in a procession to the Mary statue.
• Members sponsor a Quilt Raffle at the St. Louis Day Festival in August, hand sewing beautiful quilts for the raffle. Members also lead dishwashing on the Thursday before the festival.
• SEPT: Annual Membership Drive Mtg is in September with refreshments and bingo after the mtg.
• NOV: A candlelight prayer service is held at Nov. mtg. in honor of All Souls' Day and in remembrance of recently deceased members.
• Sponsors a Thanksgiving Dinner for senior citizens in November.
• DEC: Adopts a family at Christmas and gifts/donations are brought to Dec. mtg. The Dec. mtg is also a celebration with food, fellowship, bingo & prizes. Gift bags are delivered to homebound members.
• BIRTHDAYS: St. Ann's celebrates our parish priests' birthdays at the corresponding month's meeting. Also 70+ yr old members' birthdays are honored with a birthday card and Hail Mary said in their honor at monthly meetings.
• SCHOLARSHIP: As funds allow, St. Ann's awards a scholarship(s) to graduating senior(s) from St. Louis Parish.